THE "Sea Stories" of PROVIDENCE

---
---
SHARED EXPERIENCES, PERCEPTIONS, MEMORIES AND POINTS OF INTEREST AND CLARIFICATIONS AND INTERPRETATIONS OF VARIOUS TOPICS PAST AND PRESENT BY THE CREW. PLEASE FEEL FREE TO MAKE COMMENTS. sam@star77.com
---
Subject:
Re: USS Providence Webmaster
Date:
Sat, 30 Dec 2000 15:03:54 +0000
From:
a crowe <macro@vom.com>
Sam,
Yankee Station was the area that the Carriers occupied for Flight Ops. It was in the general area of Da Nang. All Flights
were launched from that area. PIRAZ was the area off Haiphong (North Vietnam). Positive Identification and Radar Advisory Zone. Also named North Sar (Search and Rescue). What we did was to identify all flights, friend or foe, over North Vietnam and advise the rest of the task force in the Gulf of Tonkin as to where the N. Vietnamese were and what they were doing.
Should a pilot get shot down he was to get feet wet (over water instead of land), if possible, and bail out over the Gulf as near
to our ship as possible so that we could pick him up and he would not be captured. We performed several rescues this way.
During the Son Tay raid, the effort to rescue POW's in a camp in N. Vietnam) Jouett provided what we then thought was decoy cover over Haiphong. Turns out, years later, that we actually bombed the snot out of Haiphong City. We provided the Flight Control Vector over which the planes turned from the Gulf to the land for their bombing runs.
I was on watch for 36 hours at that time. My job as head of Electronic Warfare division was to intercept and give bearings to
the Fansong ( Communist missile guidance radar) sites so that the air-to-surface missiles could be taken out. We were successful in doing that. Unfortunately, all the POW's had been moved by the time the rescuers got to the encampment. If you remember, there was a TV movie made of this.
Hope this helps...glad to make your e-aquaintance,
Tony Crowe
samvilla wrote:
> Tony
> What actually is Yankee Station and Piraz?
> Can you clarify a little more?
> Thanks
> Sam
>
> crowe wrote:
> >
> > Hi, My name is Tony Crowe and I served aboard Jouett from
> > 69-72. Son Tay raid was just one "interesting " assignment.
> > For clarification: "Yankee Station" was south and "Piraz"
> > (positive identification and radar advisory zone) was north,
> > about 15 miles off shore from Haiphong Harbor.
Tony

---
Subject:
USS Providence CLG-6
Date:
Thu, 11 Jan 2001 14:37:32 -0500
From:
TBANNING@ebmail.gdeb.com
Sam,
My name is Timothy P Banning. I served aboard the Providence as part
of the Marine Detachment from Jan 1972 until she came back from Nam and was
sent to 32nd Street for De-Commissioning. I'm interested in having my name
added to you site in hopes of someday contacting some of my fellow
shipmates. I still have some of the original photo's taken and later
handed out to the crew from our WestPac tour. The night the Helicopter
crashed on the Fantail, the hung/frozen rounds in the 5" and many hours
sitting in that little room below the Missile house entrance are still
fresh in my mind. Even the night our XO was wounded by the air burst
which shattered his Starlight Scope, I was on watch at AA Forward. Still
remember all those at sea replenishings. I'm sending this from my place of
work, my home email address is tpbanning@snet.net. If you have the time,
please let me know how I can become part of your website.
Yours truely Cpl T. Banning USMC (former).
---
Subject:
Re: welcome aboard
Date:
Wed, 7 Feb 2001 19:32:43 +0100
From:
"Carlton Dachler" <carlton@freesurf.ch>
To:
"samvilla" <samvilla@home.com>
References: CAPT. Byron D. Voegelin 61-62
Sam,
Thanks for the prompt reply. I have always enjoyed the fact that the Providence tradition continued in an attack sub. I was stationed on the USS Barb and Gurnard. (Both have homepages, but the Barb's is more up to your standards) as a reactor operator. Now I'm senior reactor operator at a Westinghouse built power plant in Switzerland. I still love talking to my shipmates, recalling sea stories and listening to what has become of all of them.
My grandfather (CAPT. Byron D. Voegelin 61-62) passed away when I was around ten, so I only have a few
memories of him, but I'll never forget the time when he gave me a model of the USS Springfield, explaining to me that it was the sister ship of his last ship, the Providence. Years later, walking through the Bremerton shipyard I came across a ship that took my breath away, as my little model was sitting there in real life, or at least close to it. I believe it was the Oklahoma City moth balled. Maybe it was the Springfield, I really can't remember. But I knew it was a close relation and I really enjoyed picturing my Grandfather up on the bridge and wondering about all the stories of his career that I had missed.
Anyway, I'm really enjoying reading the sea stories and seeing the pictures on your homepage. It is really fantastic and it is a tribute to what must have been a fantastic ship with an outstanding and dedicated crew.
Godspeed,
Carlton
---
MAIL CALL

---
Gene HanlinWed, 23 Jan 2002 19:31:25 -0500<thetenor@exis.net>
USS Providence Web Site

Hi Sam,
You don't know me but I am a Providence alumnus; the CL82 version. I've been a dues paying member of the Association for many years, back when "The Judge" was the driving force. Also, I'd like to say I thoroughly enjoy the website but it is a cause of some heartburn as well. You see, I have a complaint!! I AM NOT INCLUDED ON THE ROSTER! Now I realize that because I was on the ship back in 1947, 1948 and helped lay her up in 1949, that I must be older than dirt and perhaps my contributions to our ship may be forgotten, or perhaps that bit of parchment with my name was lost or otherwise defiled. However, these old bones still have some fire left in them. All I have to do is find out how to release it!!!
At any rate would you, at your next encounter with the web, add my name and horsepower to the Roster? It will certainly be appreciated. Once so honored, I can perhaps contribute to the sea stories or regale your readers with tales and pictures of Nip and Tuck, including their human master (they were together for so long that the Chief and dogs began to resemble each other!).
This is no idle statement as you will see.
I am long retired but like the proverbial sailor who goes for a boat ride on his day off, I keep my oar in the water. I serve as a Docent at the Hampton Roads Naval Museum where, incidentally, the USS Wisconsin is berthed. She is a major tourist attraction!
But enough of my senile pratterings, here are my vital statistics (For Roster purposes).
GENE H. HANLIN, CWO4 USNR (RET.)
FORMER "SNIPE" (MM2) "A" / "M" DIV. (then)
Home Address: 236 73rd Street
Virginia Beach, VA 23451
Tel: (757) 491-6885
Thanks for listening.
Gene
---
From: Sam Villa
Sir,
Your name has been added to the roster as requested.
Its a pleasure talking with you and I see you were part of the
Nip and Tuck era. When I mention Nip and Tuck, many think I
am talking about plastic surgery. :)

I live in San Diego and still love the ocean as I sail at least
once a month in the bay to be close to the navy ships. I don't
keep an oar in water as you do, but I do drag my leg over the
side. I love the smell of diesel and miss the smell of nappon.
This could have something to do with my memory and hearing
problems. :)

Hey, I think I still have a sense of humor after all these years.
Glad to have you aboard and look forward to hearing your sea
stories. Your message is posted under Mail Call.
Have a good day,
Sam

PS, The Wisconsin must be a sight to see.
---
From: "AL Blanks" <ablanks1@bellsouth.net>
Thu, 10 Jan 2002 15:05:24 -0500
Fw: Reflections of a "Blackshoe"

I think the following really tells it all for me. Al
I LIKE THE NAVY -

I like the Navy.
- Reflections of a Blackshoe -
I like standing on the bridge wing at sunrise with salt spray in my face
and clean ocean winds whipping in from the four quarters of the globe -
the ship beneath me feeling like a living thing as her engines drive her
through the sea.
I like the sounds of the Navy - the piercing trill of the boatswains
pipe, the syncopated clang of the ship's bell on the quarterdeck, the
harsh squawk of the 1MC, and the strong language and laughter of sailors
at work.
I like Navy vessels - nervous darting destroyers, plodding fleet
Auxiliaries, sleek submarines and steady solid carriers.
I like the proud names of Navy ships: Midway, Lexington, Saratoga, Coral
Sea - memorials of great battles won.

I like the lean angular names of Navy 'tin-cans': Barney, Dahlgren,
Mullinix, McCloy - mementos of heroes who went before us.
I like the tempo of a Navy band blaring through the topside speakers as
we pull away from the oiler after refueling at sea.
I like liberty call and the spicy scent of a foreign port.

I even like all hands working parties as my ship fills herself with the
multitude of supplies both mundane and exotic which she needs to cut her
ties to the land and carry out her mission anywhere on the globe where
there is water to float her.
I like sailors, people from all parts of the land, farms of the Midwest,
small towns of New England, from the cities, the mountains and the
prairies, from all walks of life. I trust and depend on them as they
trust and depend on me - for professional competence, for comradeship,
for courage. In a word, they are "shipmates."
I like the surge of adventure in my heart, when the word is passed: "Now
station the special sea and anchor detail - all hands to quarters for
leaving port," and I like the infectious thrill of sighting home again,
with the waving hands of welcome from family and friends waiting pier
side.

The work is hard and dangerous; the going rough at times; the parting
from loved ones painful, but the companionship of robust Navy laughter,
the 'all for one and one for all' philosophy of the sea is ever present.

I like the serenity of the sea after a day of hard ship's work, as
flying fish flit across the wave tops and sunset gives way to night.
I like the feel of the Navy in darkness - the masthead lights, the red
and green navigation lights and stern light, the pulsating
phosphorescence of radar repeaters - they cut through the dusk and join
with the mirror of stars overhead.
And I like drifting off to sleep lulled by the myriad noises large and
small that tell me that my ship is alive and well, and that my shipmates
on watch will keep me safe.
I like quiet midwatches with the aroma of strong coffee - the lifeblood
of the Navy - permeating everywhere.

And I like hectic watches when the exacting minuet of haze-gray shapes
racing at flank speed keeps all hands on a razor edge of alertness.
I like the sudden electricity of "General quarters, general quarters,
all hands man your battle stations," followed by the hurried clamor of
running feet on ladders and the resounding thump of watertight doors as
the ship transforms herself in a few brief seconds from a peaceful
workplace to a weapon of war - ready for anything.
And I like the sight of space-age equipment manned by youngsters clad in
dungarees and sound-powered phones that their grandfathers would still
recognize.
I like the traditions of the Navy and the men and women who made them.

I like the proud names of Navy heroes: Halsey, Nimitz, Perry, Farragut,
John Paul Jones.

A sailor can find much in the Navy: comrades-in-arms, pride in self and
country, mastery of the seaman's trade. An adolescent can find
adulthood.
In years to come, when sailors are home from the sea, they will still
remember with fondness and respect the ocean in all its moods - the
impossible shimmering mirror calm and the storm-tossed green water
surging over the bow. And then there will come again a faint whiff of
stack gas, a faint echo of engine and rudder orders, a vision of the
bright bunting of signal flags snapping at the yardarm, a refrain of
hearty laughter in the wardroom and chief's quarters and mess decks.
Gone ashore for good they will grow wistful about their Navy days, when
the seas belonged to them and a new port of call was ever over the
horizon.
Remembering this, they will stand taller and say, "I WAS A SAILOR ONCE.
I WAS PART OF THE NAVY, AND THE NAVY WILL ALWAYS BE PART OF ME."
by VADM Harold Koenig, USN (Ret)


---
From: "AL Blanks" <ablanks1@bellsouth.net>


Note: In regard to photos of Prov in Italy and the Med........



Hi, Sam, thanks for the photos. It so happens that I was on board the ship during the period. I was an ensign at the time, going on board in October 1945 and leaving in June 1948. If I'm not mistaken we deployed to the 6th Fleet three times during the period. The first deployment was for 6 months, and I guess was more or less a good will tour after

WWII. At first Palermo, Sicily was our homeport. Absolutely nothing there except clubs set up by the Navy. The city and people were still suffering from the effects of the War. Kids by the dozens lived in the sewer line that ran the length of the pier and were actually starving. Later Naples became our homeport. There we moored alongside a sunken Italian cruiser, laying on its side. Military law was in effect with the U.S. Army in charge. Believe or not the only automobiles were those owned by the U.S. Military Forces - there were no street lights - the only lights were those in the buildings. During the those days, the duty rotation was one in three. It so happened that every time I had the duty I was sent on shore patrol duty - more or less a permanent arrangement to insure that qualified people were used. We patrolled in jeeps, fully armed and carried at least one Thompson submachine gun. Army desertions were a big problem, and black market was big business. As I recall, a cartoon of cigarettes was worth $30 U.S. and to help control the black market U.S. personnel were paid in "skrip" instead of dollars. Frequently, all hands were gotten out of bed in the middle of night to turn in the current skrip held and issued new. If you turned in more "old skrip" than you had previously drawn......it had to be accounted for. More than one General Court Martial was given because black market participation.

As I mentioned it was more or less a good will cruise. We carried so many vehicles on the main deck aft that we couldn't train the after turrets when proceeding from one port to the next. We would visit a port, say Athens, for 10 days to show the flag; and then return to Naples to prepare for the next visit. We saw all the major ports in the Mediterranean during this cruise: Alexandria, Marseille, Athens, Instanbul, Beirut, Valencia, Palma de Majorca, Nice, Genoa, Algiers, Gibralter......and I am sure others, which I can't recall.

The American dollar was in great demand everywhere.


I didn't mean to bend your ear with this sea story.

(Sea Story appreciated, SV)

---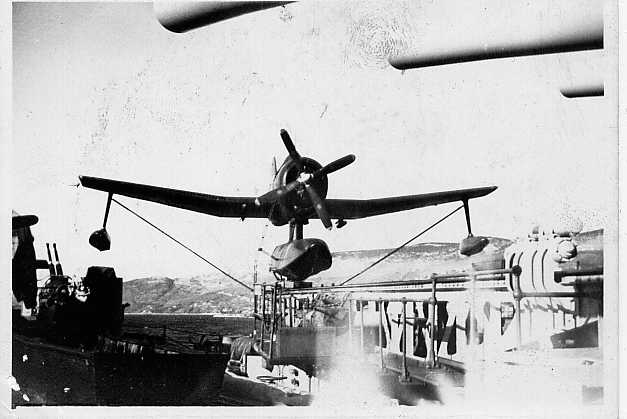 ---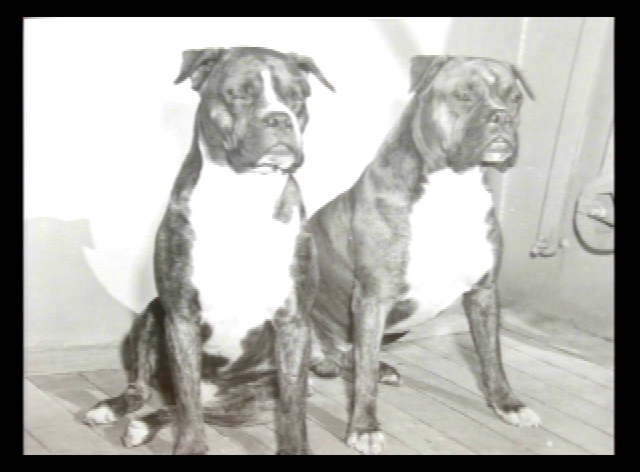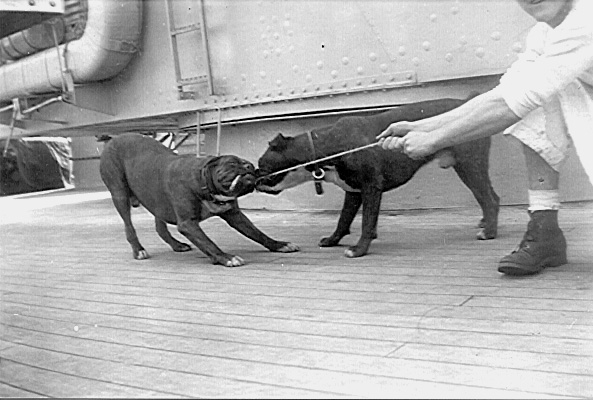 A great photo of Nip & Tuck from Mike Desider.

In a message dated 11/23/01 8:15:17 PM Eastern Standard Time,  
MikeCL82@webtv.net writes: 
 
<< Subj:     nip and tuck 
 Date:	11/23/01 8:15:17 PM Eastern Standard Time 
 From:	MikeCL82@webtv.net (mike Desider) 
 To:	wasp188@aol.com 
  
 File:	snapshot.jpg (25515 bytes) 
 DL Time (42667 bps): < 1 minute 
  
 Here are actual photo`s of nip and tuck. I took them myself. I saw on 
 Sam Villa's web site someone was inquiring about them. When I was aboard 
 their ages must have been 3 or 4 years old.  They probably weighed between 
 thirty and thirty five lbs. they were cared for by a bostwains mate.  I 
 don`t recall his name. The entire crew really enjoyed these mascots.

As for the admiral aboard his name was Admiral George E. Dyer. I have photos
of him and the skipper.  Gotta go now,smooth sailing.
Mike Desider

---


 >> 
  God Bless you Mike.  Those dogs were really an inspiration to the crew of  
CL 82 and more than once they proved it.  We loved them very much.  I do  
recall the BM3 who took care of them. But not his name.   He was a little guy  
with a handle-bar mustache who was a Master-at-Arms and nasty little  
son-of-a-gun as I recall.  The only thing that saved him was the love for the  
dogs by the crew.   :o) 
 
The dogs hung out in the MAA shack as I recall.  One day they stole the first  
division officers' shoes from his stateroom and hid them.  They never were  
found.	You might expect what happened to them because as I recall that first  
division officer was not a popular guy with his troops.   I wonder  who put  
the dogs up to that.  :o) 
They were certainly a riot and I will never forget them.   That wasn't the  
only shoes they 
stole either.  :O)  Many other articles were missing  too.  All in fun though  
and most were  
returned to their rightful owners.  The owners of the articles also began to  
figure that they be unpopular with other  crewmen  and later became true  
shipmates.  :o) 
 
Thanks so much for the photos of "Nip and Tuck."  They certainly are the real  
thing as I remember.  Maybe Sam can replace the photos with the one you sent  
as being the actual dogs.  Will send him the attachment and this message. 
 
Thanks again for bringing back such great experiences and  nostaglia on board  
USS PROVIDENCE (CL 82). 
 
You take care and happy holidays to you and yours. 
 
Warmest regards, 
Don Harribine  
 

---

In a message dated 11/24/01 5:13:05 PM Eastern Standard Time,  
samvilla@highdesert.com writes: 
Don:
No smile on these dogs.  Did they slobber like most boxers.  Just curious.   
My dad, loved boxers.  Will update the photo soon. By the way, was it against
navy regulations to have a dog aboard?
Thanks for your feedback,
Sam 
  >> 
  Sam, 
 
Yes they did slobber as most Boxers do.  The Bull Mastif is much worse.  But  
these guys seemed to slobber whenever an officer in whites approached them  
with their perfectly polished white shoes. :o)

They were the life and party of this ship.  I can tell you that much and loved
very much by the cew.  The MAA guys had these dogs trained to be comedians and
comedians they were.  I'll never forget them. 
 
Mascots were allowed for a short period during this time; as a matter of fact  
encouraged but did not last long as today they are not allowed on baord ship  
as you well know.  At least with the CO or XO aware of it.  :o)  Sneak them  
aboard now and your in trouble. 
 
Hope you got the attachment on the dogs.  Tried once again. 
 
Take care, 
Don  

---
| | |
| --- | --- |
| From: | WASP188@aol.com |
| Date: | Sun, 18 Nov 2001 08:53:38 EST |
| To: | undisclosed-recipients:; |
| Subject: | God's Wings |
Shipmates, 
 
  This was sent to me by a veteran shipmate.  It touched me very much. 
 
Don Harribine  
------------------------------------------------ 
 
An article in National Geographic several years ago provided a penetrating 
picture of God's wings. After a forest fire in Yellowstone National Park, 
forest rangers began their trek up a mountain to assess the inferno's 
damage. 
 
One ranger found a bird literally petrified in ashes, perched statuesquely on 
the ground at the base of a tree. Somewhat sickened by the eerie sight, he 
knocked over the bird with a stick. When he gently struck it, three tiny 
chicks scurried from under their dead mother's wings. The loving mother, 
keenly aware of impending disaster, had carried her offspring to the base of 
the tree and had gathered them under her wings, instinctively knowing that 
the toxic smoke would rise. She could have flown to safety but had refused 
to abandon her babies. Then the blaze had arrived and the heat had scorched  
her 
small body, the mother had remained steadfast. Because she had been willing 
to die, those under the cover of her wings would live. 
 
"He will cover you with his feathers, and under his wings you will find 
refuge." (Psalm 91:4) Being loved this much should make a difference in your 
life. Remember the One who loves you, and then be different because of it. 
 
Please pass this on to others you care about and don't drive faster than 
your Guardian Angel can fly. 
---
---
"Calvert, Carl" <CarlC@mcmullenargus.com>
Tue, 20 Nov 2001 13:48:32 -0800
"'samvilla@highdesert.com'" <samvilla@highdesert.com>
Our time aboard Providence
---

I was just checking out the website. You've done a great job! I've just 
Noticed that you served on the Providence about the same time I did. I was on 
board from 3/68-4/71. I was in charge of the Mk. 34 director for the 6-inch 
guns (I was an FTG-3). During my time on the Providence I served numerous 
hours in the missle house, during missile testing, general quarters, and 
some routine drills. You FTM guys would occasionally need some extra 
manpower from the FTG division and I was chosen a few times to fill the 
bill. I'm sure I must have met you at least a couple of times during my 
service on CLG-6. I used to work with Robert Schuster, Joe Simon, and many 
others that I cannot remember their names (we're not getting any younger you 
know). 
 
You must have had many of the same experiences that I had. Shore leave in 
Yokouska, the many ports in Korea, Phillipines, Thailand, and how about that 
homeward bound cruise to Australia, New Zeland and Tahiti! And those long 
hours off of Da Nang and Hue in Vietnam. I spent many, many hours standing 
watch in Director 1, during those 5 hours on and 5 hours off Condition 2 
times. And when we did try and get some sleep they'd have an un-rep that we 
needed to report to, in order to carry food, ordanance, or whatever into the 
bowels of the ship. Hardest work I've ever done! 
 
Later I was transferred to the U.S.S. Little Rock (CLG-4) on the East Coast, 
where I was again in charge of the Mk. 34 director. That ship was also a 
flagship-this time for the 2nd fleet on the East Coast. 
 
I'm really going to try to make that reunion. Even if you don't know too 
many of the guys, it would be great to tell and hear the stories of those 
who served aboard.
Carl Calvert 
Editor, Truckin's SUV 
(714) 939-2624 
carlc@mcmullenargus.com 

---
Name: JIM HAMMONS
Email Address jimandjobess@home.com
Name of Ship/Station USS PROVIDENCE CLG-6
Chat Room Nickname
Date Aboard Ship 1971-1973
Rate & Division FTM3/FM DIV.
Born: where/when FT.WORTH,TX.-1948
Mailing Address 2207 EVA LN.,EULESS,TX.76040
Home Phone # 817-354-7267
Occupation Today PARK PLACE MERCEDES-BENZ ,PARTS SALES
Comments/Sea Stories: Sam,I really enjoyed looking at this web site.You've done an excellent job,as always.As soon as I found this site and saw your name,I knew exactly who you were.Can't remember all the details,but even without the pic's ,I could never forget your big smile and it seemed no matter how dull things could get,you were always laughing.As for sea stories,most have probably been covered however I've always wondered what happened to those guys who jumped off the ship as we were pulling out of Subic Bay for the last time.We had just got new barrels for the six inch,and were to go back to the gun line,as we cleared port the ship received orders to proceed back to San Diego.If only they had known!
---
If you have a chance, email a message to Jim.

---
| | |
| --- | --- |
| From: | "John Bunn" <jbunn@nmsu.edu> |
| Date: | Tue, 27 Nov 2001 07:59:48 -0700 ) |
| To: | <samvilla@highdesert.com> |
| Subject: | FYI Nimitz Museum |
---
Sam,
Below is the reply I received from the curator at the museum.
Dear Mr. Bunn,

Elements of the Providence pilot house are located at the museum. Currently
they are housed at our Pacific War Combat Zone, which is undergoing
renovation and was closed to the public when you were here. Within the next
four or five years we plan to move the exhibit to our Phase III expansion in
the new wing of the George Bush Gallery of the Pacific War. At the current
time we are uncertain as to whether the material will be on exhibit prior to
that time.

Jeff Hunt
Curator
Admiral Nimitz Museum
Of the Pacific War



---