THE "Sea Stories" of PROVIDENCE

---
---
SHARED EXPERIENCES, PERCEPTIONS, MEMORIES AND POINTS OF INTEREST AND CLARIFICATIONS AND INTERPRETATIONS OF VARIOUS TOPICS PAST AND PRESENT BY THE CREW. PLEASE FEEL FREE TO MAKE COMMENTS. sam@star77.com
---
---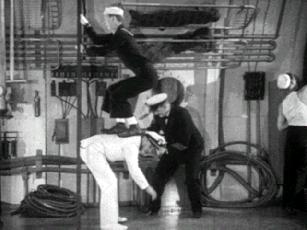 Sent: Wednesday, April 28, 1999 2:01 PM
Remembrances of a "Salty Sailor"
USS PROVIDENCE CL82
To: Donald Lyons
Don
-----
How about the time we visited Providence, Rhode Island , Oct. 15, 1945? I have several pictures, newspaper stories on that incident. I sure remember there weren't hardly any spoons left after so many were given to the girls (as bracelets) with the USN on them. I'll bet many are still in possission as a keepsake of now old women.
-----
Another one is the storm crossing the Atlantic when all the coffee mugs got smashed in the mess hall. One of the first things I did in Naples was buy a small flower vase and used it as a coffee cup.
-----
How about the kids that lived in the sewer along side CL 82, Naples; and how the mess cooks would throw left over food to them.
-----
The night we were re- routed to Stromboli Island to pick up survivors if the volcano got any worse throwing lava in the air.
-----
How we (well, some guys including me) while CL 82 was in dry dock(Boston) would put our dress blues in the bottom of a bucket, dirty laundry on top, ask permission "to go ashore to wash clothes, sir" change into dress blues in the laundry room and take off until before muster the next day? I used my membership card in the Collegiate (San Diego) Dance Club which had a saddle shoe on the face of it as ID to get past the Marine Gate Sentry. I still got a Good Conduct medal.
-----
The people of Providence, Rhode Island gave the officers the silver coffee service and the crew an ice cream machine. I have a photo of the coffee service (as a commissioning gift).
-----
I kept only one record from my Dusty Dustin Show when Capt. Jackson "volunteered" me to be a sort of disc jockey. That music was very popular with the crew and I had a blast doing it. I have a copy of Vol 1 No. 1 of the Jolly Roger (May 15, 1945) which, if you want, I'll include it.
-----
"Laugh alone and the world thinks you're an idiot"
-----
Dusty (Carl Dustin)
---

Subject:
USS Providence Webmaster
Date:
Wed, 28 Apr 1999 22:51:51 -0600
From:
John Bunn <jbunn@NMSU.Edu>
To:
samvilla@home.com

Hi Sam,
They say the knees go first, but I think it is the memory
that goes first. My recollection of the helo crash is that the
Providence was somewhere off of the Chinese island of Hainan.
It was night time, I remember I had just hit the sack. The CPO
quarters was just below the helo deck , on the opposite
side of the ship from where the helo hit. I remember it as the
helo was supposed to have lost power just a few feet from the
helo deck, struck the side ship, flipped over and landed upside
down in the water. I heard the chopper blades digging into side
of the ship, it sounded like a BIG chain being dragged across the
helo deck. There definitely were chunks on the side of the ship where
the blades struck. I seem to remember that the crew of the helo
survived. The admiral and his staff were lost because as the helo
was coming in, they had removed their seat straps and were preparing
to disembark the helo. I think manoverboard was passed, I remember
having to go to the OE Division 'ET Shop' which is only accessed
from the weather decks, and it was dark, dark out.
I sure thought the Providence made more than one raid on
Haiphong Harbor. The ship would head north from the gunline and
the "shootin" would start around midnight. Afterwards, the ship
would get back on station in EARLY morning. The CPO mess would have
what BTC Jim Bullock called a "cowboy breakfast", plates of pancakes,
scrambled eggs, bacon and sausage. Mighty good. Many years later I kind
of thought of the cowboy breakfasts as a Pavlov's Dog drill. The one run
north I do remember, the Providence went north with the Newport News and
several destroyers. Four North Vietnamese small boats made the unfortunate
mistake of being in the wrong place at the wrong time. They more than
likely were coming back from a fishing trip, but they caught hell from
everybody, even the Air Force got in the act. One or two were sunk and
the others limped away. One of the chief's who was on the bridge said
the Newport News and company looked like a fourth of July display.
I was curious if anyone remembers if "PIRAZ" and "Yankee Station"
were one in the same. Prior to the Providence, I was on the USS Jouett
(DLG-29) and the ship would be on station at PIRAZ, providing radar
survelience by steaming continously in a one mile square. I thought
PIRAZ was north of Yankee Station but can't be sure.
Really enjoy your web site, hope you can keep it live. If help
could be provided, please let me know.

Regards,

John Bunn ETCM USN (Ret)

---
Subject:
Rememberances of Captain Kenneth Veth, first CO of CLG-6
Date:
Thu, 22 Apr 1999 12:38:16 EDT
From:
LloydDUSN@aol.com
To:
samvilla@home.com

I remember Captain Veth well. As a PNC during pre-com training at Norfolk in
summer of 1959, I was pitching on our pre-com fast-pitch softball team, with
CDR Ken Simmons catching, and happened to pitch a no-hitter against one of
the Norfolk-based ships. Captain Veth, up at the ship in Boston, heard about
it and, being the big sports-enthusiast that he was, had me transferred up to
Boston because the 'main team' was just entering into serious competition. I
drove up to Boston with barely enough time to dig my spikes and glove out of
my cruise box and meet our coach, Gunner Hartley, and get to the diamond and
toss a few warm-up pitches before the game began. I didn't know any of my
team mates and was anxious and nervous as heck -- and promptly got knocked
off the mound!!! Embarassing to say the least -- but Captain Veth was a
forgiving sole... On 16 Dec 1959 he promoted me to PNCS on the quarterdeck
and later recommended me for commission, which I received in the captains
office after Captain Veth had been transferred as a Rear Admiral. His first
flag was as Commander of a Cruiser Division. He also served as Navy chief of
legislative affairs; as Commander Mine Forces in Charleston; and shortly
after I finished an in-country tour with Naval Advisory Group, Vietnam/Naval
Forces Vietnam, RADM Veth became Commander Naval Forces Vietnam. Had I known
he was coming, I would have asked for a back-to-back tour to serve with him
there!
I don't know what happened to him after his Vietnam tour (heck, I hardly
know what happened to ME after my Vietnam tour), but he was truly one
top-notch officer and gentleman that any of us who ever served under him
would have followed to hell and back. With his beat-up chevy in Boston, he
was always quick to stop and pick up any Providence sailor walking toward the
gate or ship and give them a ride and ask how they were doing. I knew no man
I respected and admired more than Admiral Kenneth L. Veth.....
Lloyd Dunton, LCDR (LDO) USN (Retired)
---
Subject:
Re: First Skipper of CLG 6
Date:
Wed, 14 Apr 1999 18:13:44 EDT
From:
Charles Sullivan USMC

Hello Don & Sam

Vice Admiral Kenneth Leroy Veth was some skipper. I have many fond memories of him. When I was a 20 year old Marine, I was his orderly. When he was the skipper of the Providence he was a 48 year old bachelor and drove a ratty 1954 Chevrolet. He was from Minot, SD and an Academy graduate. I was facinated by him. When he left Providence, he went to ComMinePac. When I left the Marines, we exchanged Christmas cards for a few years. When last I heard from him he was a Vice Admiral at the Philadelphia Navy Yard. When our 1998 reunion at St. Petersburg was forming up, I thought it would be great to get him to attend. I asked a friend who is on the staff at the Naval War College to try to locate Admiral Veth. Try as he did, he could only come up with an archives photo from a meeting in Vietnam during the late sixties.
We deduced that the admiral was no longer with us. I wish I had more to offer. The "Captain Veth" that we remember was one of many fine people that served as a role model for me during the rest of my 4 years as a Marine and then 30 years of law enforcement.
Charles Sullivan

---

Subject: Land Story
Date: Fri, 19 Mar 1999 20:07:19 -0500 (EST)
From: Michael Matteson <MichaelM@nhcorp.com>
To: samvilla@home.com
Sam,
All our time in Westpac wasn't spent at sea, nor were we all the time making
war.
Tom Grogan had enrolled in the 'Foster Child' program and sponsored a little
girl who lived in Kowloon, across the harbor from Hong Kong.

Well, one time when we visited there he had made arrangements through the
'Agency' to meet with his foster daughter and he asked me to go with him.

We met an agent/interpreter and boarded a bus on the Kowloon side and
started off to visit his (Grogans) foster daughter. It seemed like we rode
for an awfully long time on this bus and both Tom and I were getting nervous
and expecting to see a checkpoint with Communist Chinese guards any minute.
We finally got off the bus and walked a couple of blocks to a large
apartment complex that was constructed of concrete and the agent/interpreter
said this was where the little girl (I can't remember her name) and her
family lived, thanks to Tom's contribution of a couple dollars a month.
There was a family of 8 living in a 3 room apartment and we learned through
the agent/interpreter that it was only because of Grogan adopting the little
girl that they were able to live so nicely. We stayed for a bit and had some
tea and invited the girl and her mother to have lunch with us the next day
at the floating restaurant at Aberdeen. They agreed and it was arranged that
we would meet them there along with the agent/interpreter.

We had a very nice lunch which the agent/interpreter ordered for us and it
was served family style and I don't think it cost Tom and I more than about
6 dollars US each.. When we were finished eating the waiter brought a bowl
of tea and set it in front of me and then kind of stood there waiting. Not
knowing what else to do I picked it up and started to take a drink when the
agent/interpreter stopped me and explained it was for washing our fingers in
to remove the fish smell from our hands. Well, blow me down! I'm sure the
Chinese had a good laugh about that!

That was a very enjoyable liberty call for me and one I'm sure Grogan
remembers too. I wonder what ever happened to the girl. She was about 10
years old at the time.

Mike
---

Sam,

I have been racking what little brain I have to remember the CO who was on
the ship when I first got there. I finally hit pay dirt! His name was Gene
LaRoque.

I believe he went on to make Rear Admiral and later on was president of a
Washington DC based Defense Watch Dog organization. I don't remember the
name of it any more. Anyway, he preceeded Capt. Tisdale. I remember one
evening when I had only been aboard for a month or so when I was working
late in WDS and realized that the chow line was about to secure, so I ran
down to the mess decks to eat and discovered that the mess line had just
been secured. Well I trudged back up to the 02 level cussing and fuming and
at the top of the Stbd. weather deck ladder I met this older guy in a sweat
suit who asked me what the problem was. I told him I had been working and
missed chow. He asked me if I thought it would help if the BMOW was to pass
the word "The mess line will secure in 5 minutes"? I allowed as how it would
be a good idea if there was any way to make that happen. You can imagine my
surprise the next day when I heard the BMOW anounce "The mess line will
secure in 5 minutes". I told FTM1 Hendrickson (our LPO at the time) about it
and he said "Yeah, that OLD GUY you met at the top of the ladder was the
Captain". He used to come up just about every evening and work out with a
weight set that was set up just aft of the barbette of Director 6. I
recognized him the next time I saw him!!!

Mike Matteson
---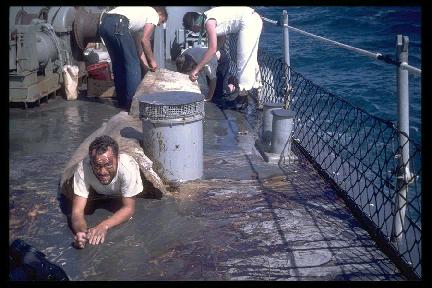 Remembrance #1:
Smoking lamp was out, all white lights were off, only red light could be used throughout the ship. We were getting close to our destination in the Tonkin Gulf. It appeared that helos were landing on the fantail and dropping off personal for planning in the war room or CIC. This mission included a number of ships of the 7th fleet.

That night it happened, a helo trying to land on the fantail touched down to close to the edge of the ship and plunged over the starboard side with the whole crew. It sunk like a rock. I understand there were no survivors. I remember approximately 6 small boats in the water in a slow quiet search in the dark with only red lights illuminating the sea. Providence was just floating lifeless on the sea as the search continued for several hours. I could sense our vulnerability in the water as we were in enemy waters, but the a thorough search was made just the same. It was cold that night, the search seemed to last a long time; you could barely make out the small boats under red lights. They had on those hard hats and life jackets with their eyes to the water.

Hours later, we were underway again to hyphong harbor on our mission. As we got closer I remember seeing bright lights flickering and glowing in the distance. It looked beautiful as if someone were celebrating a 4th of July or something of that sort. Then I was enlightened that shore guns were firing at the ship and that we were out of range at this time. We were approaching our target off Hyphong Harbor. It was reality time, I was on a ship somewhere off north vietnam and it was time for general quarters.

I was down in the computer room for GQ and soon could hear rocks being thrown against the hull of the ship and soon realized that it was shrapnel from exploding projectiles. I understand we made a few assaults on the mainland and inflicted good damage. All the ships then left the area in the zigzag formation till we reached safe waters. The ship was vibrating from the engine and prop noise as we steamed away. It was hard to get good info on this happening for it seems that info is given on a need to know basis and an E-4 doesn't need to know noth'in. Know what I mean?
Sam Villa Ftm-3
---
Subject: Ahoy again Sam
Date: Wed, 17 Mar 1999 20:30:14 -0500
From: "Lyons" <dlyons-kq4oi@worldnet.att.net >
To: "Sam Villa" <samvilla@home.com>

Sam
I was not familiar with the aircraft launcher. I believe it was launched with a 5 inch unarmed shell. The airplanes were SC-1s, recon type. We took them back on board with a sled them hauled in close so the crane could pick them up. The pilot always got out on the wing because if the sled hit rough water the plane could take a dive. One did, we lost the plane, but not the pilot.
Sorry to say but I didn't make any pictures of the ship while I was aboard. I didn't own a camera and if I recall correctly at that time pictures of the ship were not allowed. We also did not wear the name of the ship on our dress caps.
I am in touch with a couple of guys who were on board when I was. I will contact them and see if they have any pics. They were Fire Control men, who used to come up to the radio transmitter room to hang out. We had great laughs used a wire recorder that was in the xmtr rm, but I don't know why it was there, we never used it. I think they came up to see me 'cause I had some 100 proof alcohol used to clean radio crystals, which we tapped every now and then. I only had a gallon, which by the way never did see any crystals.
When it was nearly gone. I sent a requisition in the radio officer for more. I ordered a 5 gallon can. He came back to the xmtr rm and wanted to know why I needed so much. I told him I had a lot of crystal to clean. He cut the order to one gallon. It too never saw a crystal. I was really stingy with that gallon.
During our shakedown, a sister ship, I've forgotten her name and number, lost her bow. Chain locker and all. When we got back to port her bow was reinforced. Another thing that was wrong was she was top heavy. During the shake down we made full ahead right and left hand turns. She listed so badly during those turns I was sure she was going over. The hatch to the radio xmtr room had six dogs on it; when we were making the hard turns, I would close only one dog and would keep my life vest on.
A couple times I undogged the hatch and was out on deck knowing for sure she was going over. Of course she never did.
When we got back to port the armour plate on the five and six gun mounts were reduced. Everthing above the water line that could be lightened was. I had a work bench in the xmtr rm that had a steel top. It was replaced with plywood.
The Providence and her sister ship were the first ones to have fire-controlled 40 mm guns. I think that added to the weight too.
Nuff of that for now. Will trade sea stories with you again sometime.
Smooth sailing,
DJ (Donald Lyons)

---

Hi Don Harribine,

I see Lee Ingraham sent you an E-mail about my query about getting on the
Providence plank owners list.

I was assigned to the Prov. while she was still under construction at the Quincy shipyards in Mass. We took her around to Boston for commissioning. I recall, the morning after we got there, looking over at the dock and seeing all those sailors waiting to board. I said to my
buddy, where in the hell are they going to put all those sailors.

Well as they went aboard, they just disappeared. Some I never did see again. I stayed
aboard during the shakedown and the training cruise. Then after VJ day took a
discharge from active duty and went home to the family.

Sometimes I wish I had stayed aboard. Have great memories of the Providence and my shipmates.

I am going to try to meet on the ProvChatRoom. My nickname is "grotey", I
tried several others but all were already used so thought no one would have
this one. So guess I am stuck with it.

Hope to see you later Don. In the meantime smooth sailing,

DJ (Donald Lyons)

---

Sea Stories
Date:
Thu, 11 Mar 1999 16:53:56 -0500 (EST)

Sam,

I really do enjoy browsing through the Providence web site and reading the
sea stories. Reading your latest one put me in mind of the evening off the
coast of the DMZ when I came up to Weapons Control to relieve the watch.

The sun had just gone down and it was getting dark when I walked across the
02 level, (successfully stepping over all the tiedown chains of the vehicles
parked there) and as I reached for the dog on the weatherdeck door I looked
aft and there in our wake I saw a splash, and then another and another and
they were getting closer! I was kind of hypnotized watching the splashes
come up the wake and was torn between watching them and wanting to get
inside the skin of the ship. I finally had an attack of common sense and
hollered at the aft lookout and pointed at the splashes and went inside as
he was relaying the word to the bridge. By the time I got inside and got the
door dogged down we could feel the screws biting in and we hauled butt while
the 6" turret provided counterbattery fire.

I don't know if we ever found out whether we "got their range" or got "out
of range" but it was exciting for a while.

Thanks again for this great web site,

Mike



---
RE: ..Reunion..
Mon, 8 Mar 1999 11:55:13 -0600
From: Reighley Jack <JHR1205@kcpl.com>
To: "'Sam Villa'" <samvilla@home.com>
Right now all the information I have at hand is that the reunion is in
Covington, KY in August, 1999. It is being chaired by Bill McCubbin.
When we get past this reunion, I will have a little more information on
the one in Kansas City in May 2001. I am the chair of that reunion.
I already have a hotel picked out, but haven't signed the contract yet,
we are still in negotiations, but the dates are May 24 through 27, 2001.
There is no "official" name of the organization, but we have more or less
settled on "USS Providence (CL-82/CLG-6) Association" for now. I have
suggested that we try to nominate a board of directors at this next reunion
to get a little structure.
I was a Radarman on the Prov from when I boarded her in Nov, 1966 until my
discharge as an RD2 in Jan, 1970. I was on her when she had the gun battle
with the shore battery on Cap Lay just north of the DMZ, and when she broke
down the wall of Hue in the Tet offensive. We went to North Korea when the
Pueblo was hijacked (I also did some shore battery training in the same
building in San Diego that the Pueblo crew was being debriefed in after
their return). Incidentally, did you see the picture of the Pueblo in the
'68-'69 cruise book? Look for the picture of the Providence in Yokosuka
with her Christmas lights all strung out. The bow if the Pueblo (AGER-2) is
in the foreground. She was hijacked shortly after the picture was taken.
The pier that the Providence tied up to in Yokosuka is the hull of an
unfinished Japanese Heavy Cruiser that was sunk during WWII.
I am second from the right, with the bottle of Akamada Wine (remember that
stuff??) on my shoulder and the drink in my hand. I will have to get you a
list of the other guys later (at home also, I just happened to have a copy
of the picture of it on my PC here at work).
---

Subject:
Re: Signed Guestbook
Date:
Mon, 08 Mar 1999 21:19:05 +0000

From:
"Jesse W. Miller" <chief.jess@worldnet.att.net>
To:
Sam Villa <samvilla@home.com>

Sam. I remember all too well. I was in the Chiefs Mess which was just
forward of the flight deck.
Found your pic in the Cruise book. It's nice to be able to put a face to a
name, especially after so many years. If you have a Cruise book, check out
pages 185 and 189.
Stay in touch. Seems like we have a lot of things to swap sea stories
about<VBG>.
Regards,
Jess
---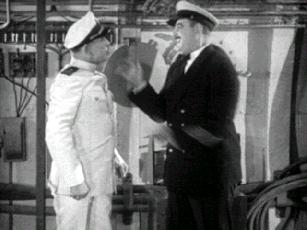 Subject:
Re: ..Where?
Date:
Sun, 7 Feb 1999 09:48:08 -0500 (EST)
From:
Michael Matteson <MichaelM@nhcorp.com>
To:
Sam Villa <samvilla@home.com>
CC:
jimsuz@mindspring.com, WASP188@aol.com
Sam,
Well, I found my picture after you gave me more specific directions.
You asked me if I had any recollections of the Providence's participation in
the Pueblo incident. I used to have pretty much of a day by day diary that I
kept while we were over there but I lost it somewhere along the way. My
memories aren't going to be accurate down to the day.
We had gotten underway from Yokosuka in early January of '68 and went down
to the gun line for a couple of weeks.
The day we pulled off the gun line we were supposed to head south for a 6
day stay in Subic Bay and then we were scheduled to steam up to Hong Kong
for 5 days of liberty. Our usual transit speed was about 12 knots and we had
set condition IV steaming watches and were headed for Subic.
About supper time we felt the ship increase speed and wondered what was
going on. It didn't take long for the word to leak out of the radio room
that one of our ships had been attacked by the North Koreans while it was in
international waters and we were going somewhere in a hurry.
Without ever actually saying 'why' the word was put out that we would be
stopping in Subic just long enough to take on fuel and supplies and then
getting underway again. There would be no liberty call.
As I recall, we were in Subic about 18 hours and then got underway again
heading northeast at a high rate of speed. (Prov could do about 35 kts at
full power & with a clean hull) Still no official word about what was going on!
We steamed for several days, I can't remember just how many, and were
instructed to winterize all our topside equipment and all topside
watchstanders were issued cold weather gear, but no official word on where
we were going.
We rendezvoused with an oiler in the vicinity of Okinawa and I remember
hearing that we had taken on 750,000 gallons of fuel. Anyway we were advised
that the oiler would take our mail and it would be the last mail that would
leave the ship for an undetermined period of time. After the mail had
transferred and we left the oiler, the Captain came on the 1MC and told us
we were going to be heading up a Task Force to go into the vicinity of North
Korea. (Big suprise!)
As we transited closer to the Japanese islands there was a news helo that
came out and over flew the ship and took pictures. It wasn't a big secret to
the rest of the world where Providence was anymore!
Very soon we hooked up with USS Canberra CAG-2 and a couple of destroyers (I
can't remember which ones) set condition III watches and went up north. Of
course I didn't know exactly where we were but it was cold and it snowed a
lot. I remember I had to go to the bridge one day and I asked the Captain if
he thought we would have to put chains on. I was never sure if he saw the
same humor in that, that I did.
Max output from the rumor mill was the only thing we ever saw happen for the
next couple of weeks and pretty soon we headed south west again headed for
the Gulf of Tonkin because the Commies had launched their Tet Offensive.
Well, we missed our 6 days in Subic and 5 days in Hong Kong and were headed
back to the gun line. (I'll never forgive those North Koreans for that)
For some reason during that time FTM2 E.Z. Moore and I were the only two WDS
technicians aboard so we relieved each other watch on and watch off whenever
the ship was at condition III and in addition to that I was Safety P.O. on
the forward rearming station during underway rearming. At that time we were
shooting all the 6 inch ammo we could get and it was hard to come by.
Sometimes we would have to rearm two or three times in one 24 hr period if
we could find AE's that had 6 inch ammo and it always seemed like the
rearming detail was set when I was off watch. I don't know how many rounds
we fired in support of the Marines at Hue but I do remember that our fire
was needed at just about the Max range of the 6 inch guns and there were
times it seemed if we got any closer to the beach we would need wheels! I
was one tired puppy by the time we headed back to Yokosuka.
When we pulled back into Yokosuka toward the end of February we had been 50
days without liberty call. Of course some of the old Chief's said that was
nothing, "Why, back in the Old Navy---"
I beat that record myself a couple of times later on when things got stirred
up in the Middle East but it was enough of an excuse to go over and drink a
beer or 8 at the time!
Hope this helps out in filling some room for the Providence Web page. Maybe
one of the other addees can supplement my memory too.
Mike