SAN DIEGO REUNION 2010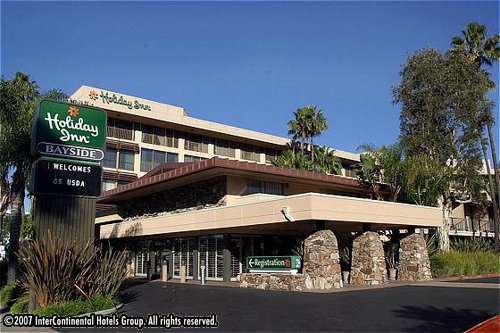 Wednesday - October 06, 2010 .......to....... Sunday - October 10, 2010.
4875 North Harbor Drive
San Diego, CA 92106
MAKE RESERVATIONS NOW!!!
For reservations call the following numbers and be sure and
mention USS Providence for the special rate.
1-800-662-8899
or
619.224.3621
USS PROVIDENCE
Year 2010 Reunion
Shipmates, families and friends; (15th Reunion)
Mark your calendars for October 6 to October 10, 2010 for the next Reunion in San Diego, California, Below is a confirmed plan of the day For the four (4) days. There are still a number of details to be coordinated, but the basic plan is in place.
The cost, on a per night basis for the room will be $123 which includes tax, at the Holiday Inn San Diego Bayside, 4875 North Harbor Drive, San Diego, and the hotel is across the bay from North Island. Arrangements will be made with the hotel for complimentary shuttles to/from local area tourist/shopping sites, including the San Diego airport.
(Don't get confused on location....this Holiday Inn is located near Nimitz Blvd...see map)
Wednesday, October 6 – Arrival - Hospitality suite opens at noon for registration with a welcome reception between 5 and 6 p.m.

Thursday, October 7 – Breakfast will be on your own.
Bus departs to Mt. Soledad for memorial services, then return to hotel for barbeque lunch (hot dogs/hamburgers, drinks and fun) between 1 p.m. and
3 p.m. Dinner will be on your own.
Friday, October 8 – Breakfast will be on your own.
Bus departs to Midway Ship for tour and this trip includes a lunch aboard the ship. Dinner will be on your own.
Saturday, October 9 – The morning/early afternoon is on your own. We're planning on a Hawaiian luau dinner – no formal dressing - this will be casual. Photos will still be taken for the reunion book prior to the luau and photos should start about 5 p.m. with dinner starting at approximately 6 p.m.
Sunday, October 10 – Farewell breakfast and departure.
The hotel will honor the same rate per night for three (3) nights prior to October 6 and three night's post October 10 – if anyone is interested to stay longer in the San Diego area. Costs for tours and timeframes are still being developed with the hotel and as soon as we receive the information, we will notify all of you.

Reunion Coordinators
David Abdouch
127 Amberwood Dr
Walnut, Calif 91789
909-573-6227
D.Abdouch@verizon.net
Larry Smock
P.O. Box 611
Downey, CA 90241
(562) 972-0463
Name
Phone No.
Spouse/Guest(s)
Date of Service
Address(Please Print)
Division
Rank
Events Listing:
(All prices below are per person)
Cost
# Persons
Total
Wednesday, October 6th: Registration Fee - This includes hospitality suite, snacks, entertainment, administraction cost and event expenses.
$35.00
The Hotel will be sponsoring a reception between 5 - 6 PM in the hospitality suite
No Cost
Thursday, October 7th: Bus departs from hotel to Mt. Soledad for Memorial Services, return to hotel for Western Barbeque
$40.00 x
Friday, October 8th: Bus departs to USS Midway for tour and lunch. Lunch will consist of sandwich, chips, cookie and drink, please indicate type and number of sandwich below.
$36.00 x
Roast Beef sandwich # ____________Turkey sandwich # _____________
Saturday, October 9th: Hawaii Luau, Photo and fun (dress well be casual)
$45.00 x
Sunday, October 10th: Farewell breakfast (Create your own Omelette Delight)
$25.00 x
Total
Emergency Contact Information
Name, Phone #, other
Are you planning on staying at the Holiday Inn, San Diego?.....yes.......no......(circle one)
MAKE CHECK PAYABLE TO: "USS PROVIDENCE ASSOCIATION"
MAIL TO:
DAVID ABDOUCH
127 AMBERWOOD DR
WALNUT, CALIFORNIA 91789

PHONE CONTACT FOR DAVID ABDOUCH.......HOME: 909-594-9273.........CELL909-573-6227
order form
Click here for 2010 Reunion Events Form ....