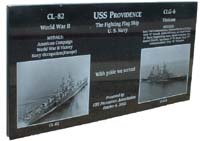 From: "Fred Redmann" <fbrmcr@charter.net> Save Address | Headers
To : "Sam Villa" <Sam@star77.com>
CC :
Date : Tue, 20 Jul 2004 14:44:57 -0500
Subject : Taps
--------------------------------------------------------------------------------

Sam, This morning 7/20/04 @ about 11:00 hours ship mate Chief Fred Stephenson, left on his last and final cruise.
He served on the USS Providence CL 82, he had been on a lot of other ships, but the Providence was the one he always talked about.

For me it's a big lost as he was not only a shipmate, but a Masonic brother as well. I had noon lunch with him at the Masonic lodge once a week, where he would be happy to tell a few sea stories, but was also a big help with the Masonic work.
I will send more as I find out more.
Fred Redmann
--------------
> Fred,
>
> Please keep me updated.
>
> I will add his name to our Memorial which has names of all who served
aboard Providence and those who served our country. He is in good company.
>
> Please extend our condolences to his family on behalf of the Providence
Association.
>
> Sam Villa
> Providence Association

---------- Original Message ----------------------------------
From: "Fred Redmann" <fbrmcr@charter.net>
Date: Thu, 22 Jul 2004 23:49:14 -0500
Sam,
Fred's service will be tomorrow 7/23/2004 at Beloit, Wisc, at 1 PM with
Masonic Rites at 12:30 PM . There will be Military Honors at the cemetery .
Fred was a Pearl Harbor survivor, a life long member of VFW Club in Beloit .
He was a 32nd degree Mason , he was high priest, thrice Illustrious Master
of the Beloit Commandery. Member of Knights Templar , Zor Shrine Temple ,
Zor Circus Clown , the list just goes on and on. He loved fishing in Canada
and also Lake Erie. He was talking about him and I driving up to the reunion
in Buffalo and stopping a few days to fish in Lake Erie on the way home.
I did make up a little some thing in the way of a condolence with a short
poem for the family from the USS Providence Association which I will give
to his wife tomorrow.
He was a good friend to all , he was always ready to help anyone with
Masonic work , and would help anyone needing help with repairs around the
home.
Take care, and Sam, thanks for taking care of this with the Association.
Fred